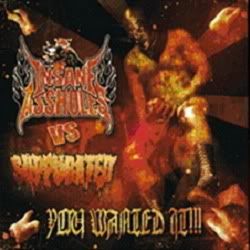 Insane Myspace
(in Italian)
Release: 2009
Label: Grindpromotion
Type: CD
Italy has one hell of a grindcore scene! This split just serves as a reminder. Both bands get 18+ minutes, which is as long as some full-lengths - so I'm doing the review in two parts. (Those of you unfamiliar with Insane Assholes should check out the
Grindzilla
review.)
I have to admit, before I gave this disc a spin I was expecting more of the same: grindcore from a band passionate about grindcore. Is that a bad thing? Well, it serves me right for being a presumptuous bastard - it wouldn't be insane if it was more of the same, would it? So what else do we get? Crossover thrash. And I'm talking the real deal here: bass lines, riffs, breakdowns and all. Anyone familiar with the band are probably shaking their head in wonder, but fear not: nothing was sacrificed to make room; crossover was
added
to their existing love of all riffs metal. Of their 13 songs three of them truly fit the bill. The rest are along the "more of the same" lines I was hoping for.
Sticking with the changes: true to the unspoken rules of crossover, the bass is both interesting and audible throughout each song. The drumming is also stronger and far more creative, especially when it comes to cymbal work. All in all, very welcomed changes. The other change is in the production. The vocals have been pushed back in the mix. They also have a live feel to them (or a subtle echo) like they were recorded in an empty pub. That "live" sound is also heard in the guitars and the snare drum - though the snare is rather hollow so the echo is actually a benefit. As a whole, the public house feel gives the recording character.
But back to crossover: Our initial taste comes in the first 30 seconds of song two, "Insane." This is really just an appetizer. The goods are delivered in full on "We Live For This" and "Our Law." Before even getting 20 seconds into these tunes I am immediately struck with images of baseball caps with flipped-up bills featuring graffiti artwork. (This is a reference to classic "Suicidal Tendencies," kids... look up their S/T album.) Aside from the thrashers, the next song to stand out is "Debirn." This is a smoking grinder of a tune with a smooth, head banging transition into D-Beat crust at the 33-second mark.
The remaining songs are in true Insane Assholes fashion: all over the place. Four are less then 15 seconds with three of those packaged together on tracks 3-5. In terms of criticism, they would have served more purpose as segues between the actual songs, especially the seven-second blaster "Punish" which has a great riff.
I'm a big fan of the band, and I love crossover bass, so naturally I like all of these songs. Tally it all up and this is a split I would buy for the Insane Assholes songs alone. Maybe it's not brutal enough for some. Maybe it's too punk for others. One thing I can say with complete certainty is that you should check it out for yourself
here
and if you like it, buy it
here
. It stands up to what Relapse and Willowtip are trying to sell you - and the Suppurated track list offers a nice contrast...