Mad AxeSpace
Release
: 2009
Type
: CD / 12"
Label
: Scrotum Jus / RSR
The animal grinders return! As if showing up on stage dressed in costumes was not enough, they had to go and solidify the Gwar comparisons with their latest album title. While there are jokes in the lyrics and song titles, rest assured: this is not thrash. Instead, this incarnation of Scumdogs is no frills, no bullshit grindcore. So don't expect samples, mood-setting intros or groove-laden instrumentals. Scumdogs Of The Forest begins with a quick drum fill followed by a scream and a blastbeat. And it never looks back. From this point on the eco-terrorists cram 22 helpings of furious death-grind into 20 minutes.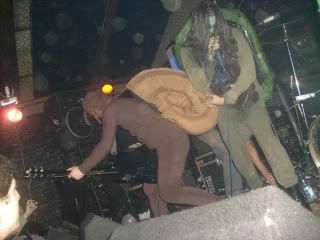 And it
sounds
brilliant. If anything, it's over mastered, but at least it doesn't give you a headache. Each aspect of the music was given equal breathing space. Instead of distorted fuzz, the bass has an audible tone that is heard throughout. On drums, the snare sounds like an abrupt snap and each cymbal stands out. Of course, the guitar has a gritty tone - there's nothing clean about grindcore. The vocals are a cross between death grunt and hardcore rasp, so if you listen closely you can distinguish most of the lyrics. But lyrics are not the focal point: it's all about the riffs, right?
The Axeman are rather fond of classic metal, so between the grind expect some straightforward death metal and mid-tempo chugga riffing here and there. But the focal point is death-grind. The standard line for hybrid bands is to change from one style to another within their songs. The Mad Axeman take that one step further: they write hybrid riffs. They start out one way, usually with grind or crust and round the riff out with death metal flare. At times, mostly due to the rare chugga action, but with some of the their death metal riffing as well, the music sounds similar to what you'll find in Earache's late 80's catalog. There is more blatant borrowing on "Moshen Wie Gott In Franreich," which begins just like "Maze of Torment" (you should know who we're talking about) and even adds the low-end laughter before they change gears. It's obvious these guys are having fun with it; the presentation comes across more like homage than grand theft riffage. It also doesn't hurt that you can feel the passion and intensity in their music.
There are plenty of quality songs on the track list - like the creatively titled "Squirrel vs Glen Benton," for example. I think the album as a whole is a better experience but here are a few that stood out:
Klappe Zuaffe Tot (Golden Bananas 2)
: "Capitalism Sucks!" Brevity at its finest. Essentially a three riff song, with a hardcore intro and a variation of this riff later - but in-between is a healthy dose of Mad Axeman blastbeat mayhem. They trade back and forth over the last half of the song creating a contrast of styles that blends well.
Arschbombe Des Monats
: Great classic thrash, proto death metal riffing over double bass before transitioning into a modern blast fest.
Grind, grind, grind!
: The first 20 seconds of this one is a bass line Black Flag would be proud of. A snare roll builds up with some guitars in the background and just when you're thinking a punk song is in the works the Axeman do the song title justice.
You getting the idea yet? The list keeps going and I know someone will say I forgot a better tune. What can I say? I thoroughly enjoyed this one - and it feels longer than 20 minutes. About the only criticism I can offer is that six songs begin with four snare cracks - which is as excessive as my criticism is pithy. So there. Scumdogs Of The Forest is good grind food. The only reason I can see grind fans passing this one up is because they're broke.
Check it out
and decide for yourself - then do yourself a favor and
buy it
. You can trust Scrotum Jus and the RSR vinyl comes with a fold-out lyric sheet with poster art on the back.