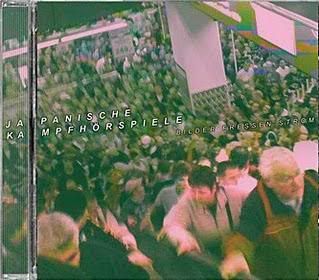 JaKa MySpace
Type: CD / Vinyl
Release: 2010
Label:
Unundeux
As always you get your money's worth with Jaka (their last EP was 19 minutes
before
the 19-minute bonus track). Jaka have also always been good for writing quality riffs, often penning one-off, throw-away riffs lesser bands would design complete songs around. In their usual realm of punk and grind, these were treats adding flavor to their "short, composed poems" take on grind's micro song format. Bilden Fressen Strom adds a new twist to the formula - featuring 27 songs in 42 minutes (those number are usually swapped) and the name of the game this time around is Thrash. There are three instrumentals - by title - but lyrics are at such a premium that instrumentation was definitely their style of choice during the writing process.
From a purist stand point (read: you have a closed mind and think every band's earlier work is better) a little of the punch and urgency of their earlier songs has been lost. Instead of ten to 45 second outbursts we get songs with body, mind and spirit. In reality, it's a trade off leaving behind an album with more personality. It's a CD that can grace your home stereo system all day long, or, in MP3 format, can get you through your whole commute while you deal with assholes who never learned how to merge...
Bilder Fressen Strom begins with "Die Schlachtung," a five minute song with enough stop-and-go action to make even Antigama blush. It has so many quality riffs that a reviewer working on a word count would simply give up and call it
epic
. I am a firm believer in transitioning. It's not just "the riff" but how you build up to it and where you go after it. Any one who listened to classic thrash knows what I'm talking about. But if that didn't make sense, just pay attention to what is happening leading into the 1:40 mark and to where the band goes from there. As the tune works to it's inevitable end the only thing I can really ask for is louder bass kicks. The tone is set: it's skin-tight black jeans with white high-tops
Thrash time
. And there's 37 minutes to go...
There are so many great songs and moments. Take "Supermacht," which meanders through the first half of the track before suddenly morphing into a crossover bordering powerviolence finale. There's the industrial number "Jochbeinbruch" that certain early-90's power houses in the genre are probably furious they didn't write. Then there's "Wie geht nochmal ficken," featuring driving, mid-paced palm-muted riffing that scream out for blast beats. Showing their patient side, Jaka instead offer up an extended, ankle exercising double bass passage that sounds absolutely brilliant by virtue of not being triggered. Another one that comes to mind is "Rentnerparadies," the kind of song that makes kids want to hit up their dads for the car keys and some gas money.
Without question "Bilder Fressen Strom" is their heaviest and most metal album yet. This will probably be the one the band is eventually "known" for - primarily because the songs should appeal across the extreme spectrum. From the punk side, fans of
Abscess
and
Massgrav
; on the thrash side, fans of
Ghoul
and
Population Reduction
; and especially old school death metal fans: we can all learn German, play air guitar and snarl along. Both disk and vinyl are available directly from the band
here
.