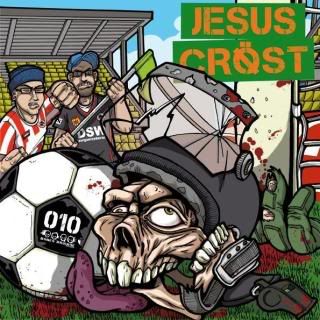 Jesus Crost
Space
Release: 2010
Format: CD
label:
Bones Bridage
The two leisure activities that interest me the most in life are listening to grind and watching football. And I'm not joking: I intentionally work nights so I can be awake European hours, I have every "soccer" channel DirectTV offers, and I schedule my vacations around World Cup and the Summer Olympics. Either I am not alone or Jesus Crost figured out the path of least resistance to my wallet - Wear your team's kit, toss a football on your album cover and describe yourself as "Hooligan power violence."
010 is 23 songs in 15 minutes. The closest similarity I can think of, from a song writing stand point, is
Japanische Kampfhörspiele
. Like Jaka, the songs are more like haiku, each with their own themes and intentions. And Like Jaka the band write quick hitting, catchy riffs that lesser bands would design 3-minute songs around. There is plenty of stop-and-go action, groove, variety and just enough aggression to live up to their hooligan moniker. A good example of the band's more patient side is "Parasit" which is up on their MySpace. You can also hear "Wurfloch" and "Gonorrhoea" while you are there to get a good grasp of their ADHD side. For everything in between you have to
get the CD
.
One of the reasons I enjoy this album so much is how short it is. I will be the first to admit how I would like the band to expand on their riffs. But there are so many notable ones, and they are spaced out well across the 15 minute run time. It always seems like the good ones come back around just in time to keep me listening. Also, for any one who was turned off by the bonus tracks on Tot, rest assured, 010 does not have continuity issues. This one is highly recommended. It may not change your world but I doubt many will dislike it.
Now, unless anyone else minds, I'm off to watch the Tenerife - Real Madrid replay while I kill the seven hours until the Premiership kicks off.