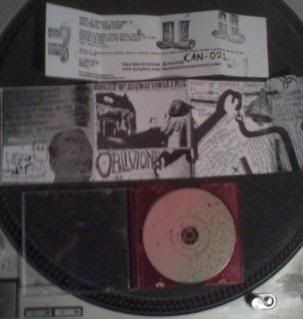 OOSP
MySpace
Release: 2009
Type: Mini CD (limit 50) / Cassette
Label:
Cantankerous
Records
Where is the line of demarcation? Where does powerviolence end and grind begin? For me it has always been a matter of tone. A band that "sounds" punk is powerviolence; a band that "sounds" metal is grind. It obviously runs deeper than this, and being a sloppy band helps, but in a nutshell this has always been what drives my decision making process. Then again, it's all pretty much academic once the music starts. So while it may not liven up the conversation, maybe it's best to keep things simple: labels mean shit, just listen to the tunes.
Where am I going with this? Enter one of Indonesia's best kept secrets: (unless you've never heard of
Proletar
, in which case this is the second best kept secret) Onset Of Serious Problems. This two-man destruction unit fucking grinds. They know how write proper intros. They string together crust riffs like seasoned veterans. They know how (and when) to thrash. And they've got plenty of double bass. All the ingredients are in place to state firmly that these guys are a grind band. But two glaring things stand out to change my mind. The first is their tone. Guitarist/Vocalist Wahyu uses a tone that distinctly "sounds" like the brand of punk that evolved into mid-90's powerviolence. The second element comes from the vocals. Wahyu screams his lungs out like an Indonesian Issac from ManMadePredator era Leng Tch'e.
The EP is seven songs in eight minutes. Considering it's a mini CD from a band I've never heard of on a label I'm unfamiliar with, I'd say the production is stellar. In true EP fashion, track one, Mass Obliteration, sets the tone with a brief and familiar instrumental intro. This builds up through three different drum beats and then the Onset begins. OOSP never mess around when it comes to riffs. They seem to be always changing. Some are brought back later in a song, or exchanged verse-chorus-verse style, but nothing sticks around long enough to wear out its welcome. The drumming from Bondie follows along, constantly changing up between punk/thrash, blast and double bass. It's an old punk's dream come true. Those non punk, non-powerviolence fans among us might be a little bothered by what could be considered monotonous vocals. Anyone demanding variation in this regard will be disappointed. Those of you who can look past this will be duly rewarded. I absolutely love it. If Wahyu ever figures out a death growl, look out world. Either way, this is a band that with a bright future.
I'm not sure about the CD's availability. You will have to email/pester Cantankerous about this. You can mail order the cassette from
Rescued From Life
. In the mean time, check them out
here
. And definitely follow their MySpace for updates. They have a split in the works with
Goner
, who are another band worth checking out.