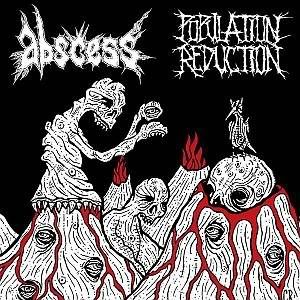 AbscessSpace
Pop-ReduxSpace
Release: 2009
Type: CD
Label: Tank Crimes
This little ditty does everything I expect from a split EP: two bands with distinctly different styles; both bands get around 13 minutes; and there is at least one cover song.
Veterans Abscess get the ball rolling with eight songs that sound like they were made in the 1980's. Track one, "
The World Insane
" opens with a riff straight off of "
Praise of Death
" by Slayer. From here they play a handful of thrash songs, a punk number and even give us a breakdown in the middle of "
Bourbon, Blood and Butchery
" that sounds just like Sabbath, right down to the guitar solo. Only one song has blastbeats. They start out smooth and powerful but after 20 second begin devolving into something sloppy enough to make Mick Harris sound like a genius. But let's be honest, these guys are elder statesmen; what do we expect?
All of these songs are like a trip down memory lane, courtesy of accomplished musicians who are passionate about what they play, but more importantly, know how to write and play it. What we have in the end are authentic tunes; which is refreshing in a time with pseudo-retro thrash acts popping up right and left.
Up next on the track list are seven new songs from the self-professed "hash smoking grind freaks." There is no use asking for a continuation of "
Each Birth a New Disaster
" because that was two years ago. But we are completely justified hoping for rhythm-driven thrash with humorous lyrics. And with titles like "
Babies are Assholes
" and "
Beer Fest, Bear Death
" it's safe to assume they lived up to their end of the bargain. But on closer inspection, it's "
In with the Old, Out with the Cold
" that truly fits the bill. This song begs the question: are our grandparents "
clean burning fossil fuel
"?
Does this EP replace anything by either band? Of course not. You have to search pretty deep to find EPs that take precedence of full lengths (Mentally Murdered comes to mind). But as a fan of either band, these are essential tunes to keep your interest up while awaiting the next album. You can check it out
here
. You can pick this up cheap from Tank Crimes but it's PayPal only. The other option is to pay 2$ more and get it
here
. Either way you get a Population Reduction sticker (white lettering on a black background) a basic lyric sheet and some band member photos.